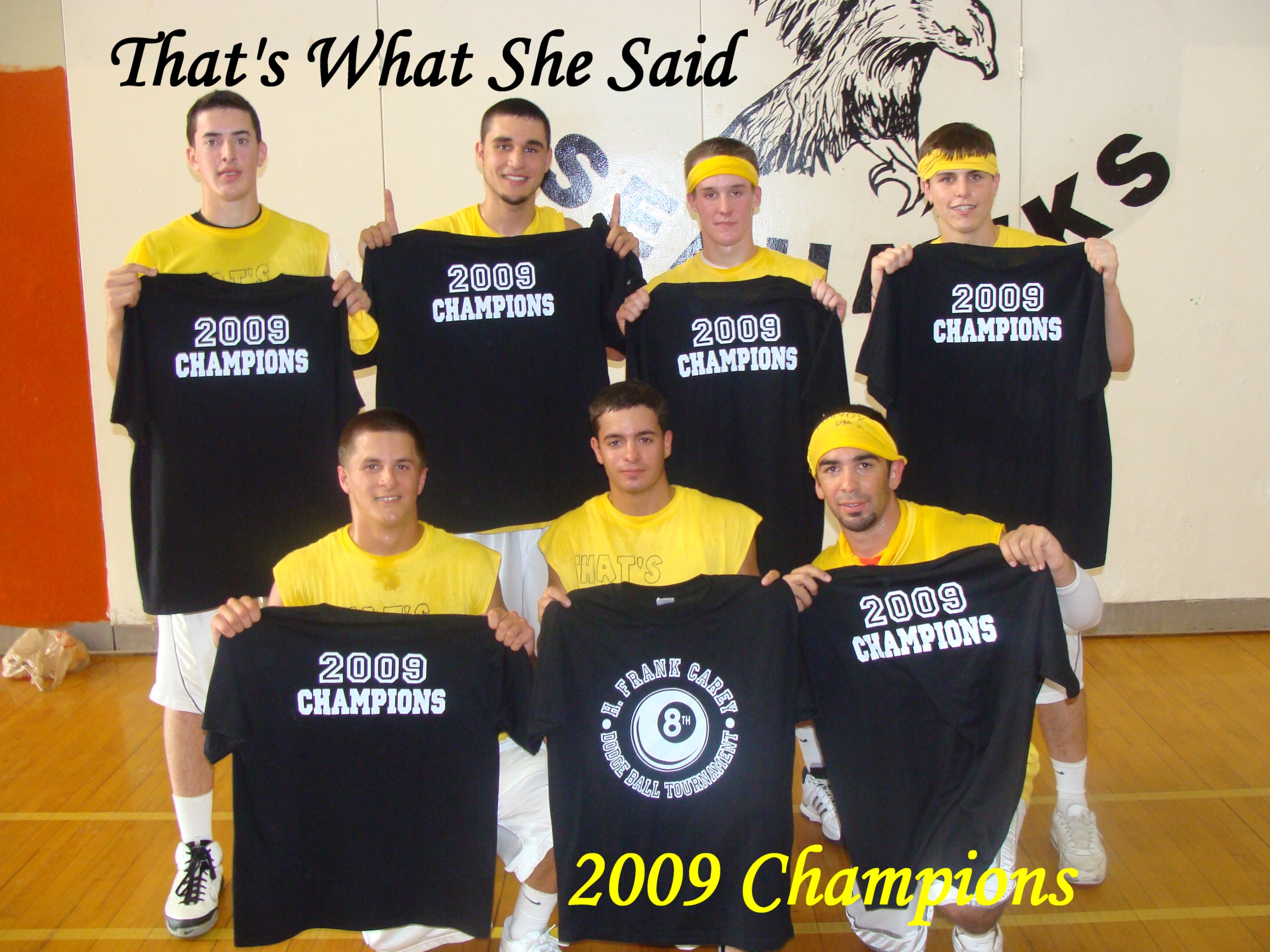 Dodgeball Day 2
Despite battling a hostile crowd, who always favors an underdog, as well scrapping with a gritty, determined Sandlot club in two different rounds, the pre-tournament favorite That's What She Said at 2 to 1 odds completed their mission as they swept the 2009 Championship Round to stake their claim as one of the all-time H. Frank Carey Dodgeball greats.
On their way to the top they only lost two games in five matches. Working as a team they got solid contributions from all seven players as each played a vital role in their success. Phil Leidner made several great grabs, Kevin Scott, often playing on the front line made key catches and hits, Sal Cerami playing with his typical fiery emotion kept the team pumped up, Tommy Torregrossa, when he wasn't laying on his back getting guys out kept opponents off-balance with several phantom throws that derailed hard charging attacks, Brian McGrath guarded the pin like he was Henrik Lundqvist and also delivered a great role in the final rounds with key hits, Joe Gregorio, the quiet one, completed a triple hit in game two that stunned the Sandlot and bumped the lead to an insurmountable 2-0 finals lead, and last but not least Luke Zahradka, who tied a Carey record by winning his second Dodgeball title put the final nail in the coffin when he pegged the pin while down 5 to 1 in game three to to retrieve his teammates who quickly put the rest of the Sandlot down for the count. It was just enough to earn Zahradka the Most Valuable Player award as he now joins older brother C.J.(2005) as a Seahawk Bobblehead recipient.
The early Day 2 action played out as expected as That's What She Said ended Peter Pan and the Lost Boys cinderella ride in game one. The Sandlot got their confidence up next when they disposed of the Scrub Nation. Gym Class Heroes, despite their clever T-Shirts, were unmercifully brought back down to earth by Legends Never Die in a two game wipeout. Reverend Matthew and the White Panthers battled back from one game down to eliminate a solid Honk If You Demand Satisfaction club who finally had to have their fan contingent put away those annoying, quail sounding, to many hours after New Years Eve kazoos that were worse than nails on a chalkboard to listen to. The DJ crew Ace Of Spades were defeated by Got 'Em next in a snoozer, sorry fellas but it was before Sun's Out Guns Out knocked off the yellow Picasso's known as Ceral Killers to finish round two.
In the quarterfinals, That's What She Said took care of The Sandlot for the first time in three to advance and send Sandlot to the first ever double elimination game where they met Reverend Matthew who were edged out by Legends Never Die. Got 'Em made one game exciting before Sun's Out did the trick in three.
The Sandlot though evenly matched, outshined Reverend Matthew and the White Panthers to advance to the final four against Sun's Out Guns Out who despite being well rested were soundly beaten by The Sandlot as their skills were turned up a notch in a surprising upset. As the Sandlot waited two heavyweights That's What She Said and Legends Never Die banged heads with the winner headed to the finals. Action throughout kept the crowd entertained, She Said took game one while Legends after a remarkable game ending catch by big Joe Fasano sealed game two to set up the winner take all rubber match which came rather easily for the jacked up She Saiders who advanced to the finals with the win.
Giving the fellas a break in the action, the Carey ladies finally got their turn as Chicks With Dodgeballs met up with Aftershock in the girls finals. Led by Most Valuable Player Marcella Castellano, Aftershock took their first title in straight sets to set off a high pitched frenzy both on the court and in the stands. It was a fun match that showed what Carey girls were made of. It took a lot of courage for both teams to take to the court in front of nearly 900 people and they should feel great about themselves, win or lose, for their efforts.
Returning to the boys tournament That's What She said took care of business and it also gave Mr. Hedquist, that's me, an opportunity to finalize my predictions in style as I am now heading to Las Vegas after completing my predictions at 20-5 :)
On a serious note though I can not thank the Carey Student Body enough for their remarkable sportsmanship and behavior these last two days. It was very satisfying to run a tournament with such a positive response. Hopefully, with your continued help and support we can make next year's tournament an even greater success. Have a great Summer everyone, and again best of luck to all the Seniors. Its been fun.
Mr. Hedquist
Dodgeball Awards 2009
Best Team Names-Reverend Matthew and The White Panthers, Gym Class Heroes and Sun's Out Guns Out
Worst Team Names-Scrub Nation, Haterade and That's What She Said
Best Uniforms-The Sandlot, Gym Class Heroes, The Apostles, The Goonies, Peter Pan and The Lost Boys
Most Artistically Creative Uniforms-Cereal Killers--Kudos to Mrs. Andreani for real talent and hard work.
Worst Uniforms-City Boys, Got 'Em, The Unknown and Super Tough Dudes
Best Dressed-Peter Vario from Monstars
Worst Dressed-For the second year in a row-Pat Esposito. This time for no shirt-last time for no pants :)...and Anthony Romanello...we get it you workout, now please put your shirt back on! :)
Best Catch-Joe Fasano to end a game, and about twelve others that I don't remember
Best Game-That's What She said vs Legends Never Die and Ace of Spades vs Hanh!
Best Individual Efforts-Iv Malka, Russell Linder
Biggest Upset-Peter Pan over Tune Squad
Best Props-Lima Y Su Mambo Violento
Most Anticipated Team name in 2010-Lima Y Su Mambo Violento
Fan Favorite-Lima Y Su Mambo Violento and The Sandlot
Shortest Game-Revernd Matthew over Super Tough Dudes
Best Song-Ace of Spades-Motorhead Rules!!!
Best Showdown- Nick Vilchez vs Anthony Logozzo
Thanks for Stopping By-Super Tough Dudes, Monstars, Haterade and Team Whitespot
Teams to Watch in 2010-Tune Squad, The Sandlot, Team White Spot, Revernd Matthew and The White Panthers
Teams that SHOULD Watch in 2010 :)-Super Tough Dudes, Haterade and The Unknown
Most Fun Moment of the Tournament-Vinny Scardino spilling Cafe Latte all over Anthony Doddo in a front row player/fan collision.
Dodgeball Day 1
Before detailing the events of Day 1, I would like to personally thank the entire Carey HS student body who attended and participated for their outstanding behavior and conduct. Let's try to make Day 2 run just as smoothly!
As for the action, when you are the Champs you always carry that bullseye on your back. Such was the case for the 2008 Champion Tune Squad who were unceremoniously dumped in two straight games by the upstart Peter Pan and the Lost Boys led by Peter Falcon just two games into the tournament. Plain and Simple, Tune Squad was dominated by a better team but with a cast of underclassmen they will return on a mission in 2010.
Despite their upset the biggest game of the day preceded them when That's What She Said, and Tune Squad Defector Luke Zahradka outfoxed and outplayed a very game Team White Spot crew who caught the short end of a very challenging first round matchup. They too, with Captain Kyle DeMeo and his bright teeth should also make noise in 2010.
Game three pitted the Scrub Nation and its cast of Sophomores vs Lima Y Su Violento who were a huge hit with the fan base but realistically no match as they were knocked off in two. No worries Lima we are all looking forward to your next costume venture in the future.
The Sandlot and their number one ranked uniforms took it to The Unknown in another sweep as Russell Linder displayed dazzling moves in both games to get the shutout.
Moving on to the next bracket Gym Class Heroes Days 2/4 and their unbelievably handsome looking T-Shirt portraits took out The Apostles, despite a valiant effort by St. Thomas Lannon, in a sweep as well.
Legends Never Die, another high ranked favorite with retro shirts took care of the City Boys and their graffitti shirts in their match rather quickly.
Pac-Men and Honk If You Demand Satisfaction provided some enlightening entertainment in the next game before Honk advanced with yet another shutout. How's your mug feeling Espo?
Reverend Matthew and the White Panthers cured the Super Tough Dudes in a rout as the Dudes were happy just to be part of the festivities.
Moving to the West Bracket, Got 'Em dropped the Tune Squad contingent as the Monstars will now also head over to the tennis courts to finish their 2009 tournament.
Ace of Spades and their number one ranked song, Three Cheers for Lemme Kilmeister Metal Heads!! disposed of the Hanh in straight sets but as far as fan support it was all about Hanh!'s Iv Malka who stole the show but was unable to knock down the Aces.
Sun's Out Guns Out who all need to get directions to the weightroom hammer-dropped The Goonies as the movie night bashing continued.
To wrap things up the Cereal Killers and their extremely creative and artistic uniforms knocked off Haterade, also known as the Average Brothers to complete the Day 1 contests. On Friday we will crown a Boys Champion and possibly a Girls Champion as the 8th Annual completes it second half.
Just a reminder please, as per Carey HS Administration, no face paint, hats in the gym, or uniform distractions during the day. Please continue doing the right thing like you have and the tournament will continue to thrive. Thank You.
Mr. Hedquist
Dodgeball 2009
Welcome to the H.Frank Carey Dodgeball Site! I want to thank all of the participants beforehand for making the 2008-2009 school year another enjoyable ride and I wish all of the Seniors the best of the luck in the future.
This year's Dodgeball Tournament held on June 11th and June 12th, as always, is also a special fundraiser for the Carey Baseball Program and after our best season in years we also want to say thank you for supporting us.
Now let's get down to business. This year's tournament, more so than any other year was almost a no-go, but thankfully our Principal Mrs. Angelillo gave the go ahead with a few stipulations. Under no circumstances can the following things happen: 1) No Inappropriate Team Names-If you are not sure then ask Mr. Farina or myself. 2) Do NOT wear your Dodgeball Gameday Uniform during the school day--All Headbands, Hats, Bandanas, Etc. will be confiscated and you will become a distraction to the educational process. Worse off you will put this tournament in jeopardy of becoming extinct! 3) When you attend the two-day Tournament-Do NOT hang around or walk through the hallways-No getting books, or "I forgot something in my locker" nonsense. When the entire crowd leaves after the tournament you should exit the building and head home. 4) No foul language or inappropriate behavior will be tolerated on the court or in the stands. 5) Make sure you are attending all of your Review classes and extra study periods-budget your time properly. If there is a conflict with the tournament make arrangements so you go to the review courses in the morning.
6) Use common sense-you represent Carey HS and yourself. Behave, compete have fun but do the right thing (You all know what that is) and this tournament will continue in the future. If not then we may go by way of the dinosaur-Please don't ruin a good thing.
Listed below are the Odds to Win, as well as the Tournament Brackets for this year's 8th Annual. I will preface it the same way I do every year. I do NOT care who wins. I write the Odds based on my observations of you as an athlete, or lack thereof :), from what I see in Gym Class. I then apply a GUESS as to what I think your team will do. I also take into account what bracket your team is in. After all of that I post what I think are your chances of winning. As you can see however, it is plain to see that our top bracket Teams 1-8 is LOADED. I do believe a Champ will emerge from that group. However, if Super Tough Dudes won it all then I would be thrilled. Have fun with the Odds and be sure to stay tuned to see if any Odds change before Thursday. I will post my Game to Game Predictions sometime this week after I am assured that all teams are paid in full, that all progress reports are submitted and that every team roster is finalized.
Thnaks again,
Mr. Hedquist
East Bracket
1
Peter Pan + the Lost Boys
Peter Pan + Lost Boys
2
Tune Squad Back In Action
3
That's What She Said
That's What She said
4
Team Whitespot
5
Scrub Nation
Scrub Nation
6
Lima y Su Mambo Violento
7
The Sandlot
The Sandlot
8
Joe Desimone (Untitled)
9
Gym Class Heroes Days 2/4
Gym Class Heroes
10
The Apostles
11
City Boys
Legends Never Die
12
Legends Never Die
13
Pac-Men
Honk...Satisfaction
14
Honk If You Demand Satisfaction
15
Super Tough Dudes
Reverend Matthew
16
Reverend Matt + White Panthers
West Bracket
17
Monstars
Got 'Em
18
Got 'Em
19
Ace of Spades
Ace Of Spades
20
Hanh!!
21
The Goonies
Sun's Out Guns Out
22
Sun's Out, Guns Out
23
Average Brothers
Cereal Killers
24
Cereal Killers

***East Bracket Semi-Finals Losers Will Play a Double Elimination Game for the Right to Play West Bracket Champion and possible advance.

East Bracket Finalist will play West Bracket Finalist for Championship
| | |
| --- | --- |
| Team Name | Odds To Win |
| That's What She Said | 2 to 1 |
| Tune Squad Back In Action | 3 to 1 |
| Legends Never Die | 3 to 1 |
| Sun's Out Guns Out | 5 to 1 |
| Reverend Matt and The White Panthers | 6 to 1 |
| Team White Spot | 9 to 1 |
| Honk If You Demand Satisfaction | 10 to 1 |
| Cereal Killers | 10 to 1 |
| Pac-Men | 12 to 1 |
| The Sandlot | 15 to 1 |
| Got 'Em | 20 to 1 |
| Gym Class Heroes Days 2/4 | 30 to 1 |
| Peter Pan and The Lost Boys | 35 to 1 |
| Scrub Nation | 35 to 1 |
| The Goonies | 35 to 1 |
| Monstars | 45 to 1 |
| City Boys | 45 to 1 |
| Ace of Spades | 50 to 1 |
| Hanh! | 50 to 1 |
| Haterade | 60 to 1 |
| Lima Y Su Mambo Violento | 400 to 1 |
| The Unknown | 500 to 1 |
| The Apostles | 700 to 1 |
| Super Tough Dudes | When Pigs Fly :) |
| BLUE INDICATES ELIMINATED | |
Tune Squad Back In Action
Joey Marino
Al Gentile
Terrance Murchie
Greg D'Arienzo
Mike Tripodi
TBA
Mike Marino
That's What She Said
Kevin Scott
Joe Gregorio
Luke Zahradka
Phil Leidner
Tommy Torregrossa
Brian McGrath
Sal Cerami
Legends Never Die
Matt Maidhof
Anthony Romanello
Chris Hill
Joe Fasano
John Molloy
Brian Combs
Rob Brusca
Team White Spot
Anthony Licata
Joe Cali
Kyle DeMeo
Giuliano Bove
Anthony Zeppieri
James Pangallo
TBA
Reverend Matthew and the White Panthers
Mike Zito
Steve Matthew
John Augello
Chris Martelli
Scott Bradshaw
Doug Wallick
Steven Marino
Honk If You Demand Satisfaction
Colin Stropkay
Pat Esposito
Kevin Barry
Conor Ferguson
Natale Franco
Rob Braun
To Be Announced
Peter Pan and The Lost Boys
Peter Falcon
Adrian Pagano
Chris Humrich
Steve Mallick
Joe Alvino
Jason Alvino
Anthony Singleton
Gym Class Heroes Days 2/4
Frankie DiFiore
Jon Cieri
Anthony Anzalone
Lazaro Sepulveda
Frank Davi
Paul Collazo
James Klein
Scrub Nation
Jack Young
Tom Scott
Robbie Miotto
Nick Vilchez
Jake Robison
Kyle Zahradka
Tom Rydzewski MX?
The Goonies
Matt Svoboda
Savon Parker
David Nieves
Drew Zahradka
Chris Lean
Matt Oswald
Dan Pizzuto
Sun's Out Guns Out
Mike Keen
Evan Delgado
Eric Cortese
Anthony Moneta
Chris Siegenthaler
Ricky Figueroa
Mike Amatulli
City Boys
Angelo Dipasquale
Blake Boerckel
Anthony Acierno
Nick Sles
Peter Panopoulos
Nick Romanello
Mike Dziubela
Lima y Su Mambo Violento
Brian Lima
Christian Ramos
Eloy Mendoza
Andre Ramos
Jon Andrade
Jon Fineo
Even Jacaruso
Cereal Killers
Anthony Andreani
David Andreani
Sal Carillo
Joe Nicholls
Tim Maracic
Chris D'Agostino
Joe Rando
Super Tough Dudes
Mike Leucken
Sean Curran
Greg Giaconelli
Charles Saroniero
Anthony Pizarro
Evangelos Maroulis
Chris Macioch
The Apostles
J.P. Cordon
Kevin McCarthy
Vlad Cojocaru
Tom Lannon
Paul Sassos
Nick Caiazzo
Ricky Bedeian
The Sandlot
Russel Linder
Mike Babich
Anthony Logozzo
Dom Russo
Matt Buchalski
Dan McElhinney
Nick Ferrara
Monstars
Sal Ciaccio
Pete Vario
Joe Imperio
Rob Annunziata
Joe Larosa
Sonny Catenease
Dylan Murphy
Ace of Spades
Joe Babyer
Louie Cona
Andrew Dileonardo
Ryan Karl
Mike Reister
Mike Masci
Adam Delgado
Average Brothers
Dan O'Connell
Shawm Mason
Mike Schaaf
Ken Levandoski
John Humrich
Mike Fox
Vinny Selvaggio
Hanh!
Damien Fiorello
Rich Schwartz
Iv Malka
James Valenza
Brian Mahoney
Sergio Dominguez
Alex Karamitsios
Got 'Em
David Cedeno
Andrew Gentile
Jesse Milonas
Carl Ricaurte
Peter Conte
Mike Mallick
Chris Dente
Pac-Men
Vincent Cali
Joey Torregrossa
Harry Smith
Scott Liuzzo
Ed Eymold
Rob Altun
Peter Nicholls
The Unknown
Henry Bonilla
Mike Locicero
Joe Desimone
Nick Karamitsios
Nick Safuto
Fernando Mejia
Matt Jenik
Mr. Hedquist's 2009 Predictions:
First Round
Tune Squad Over Peter Pan
That's What She Said Over Team White Spot
Scrub Nation Over Lima ...Mambo
The Sandlot Over The Unknown
Gym Class Heroes Over The Apostles
Legends Never Die Over City Boys
Honk If You Demand Satisfaction Over Pac-Men
Reverend Matt Over Super Tough Dudes
Got "Em Over Monstars
Hanh! Over Ace of Spades
Sun's Out, Guns Out Over The Goonies
Cereal Killers Over Average Brothers
Hedquist Day 1 Predictions- 10 Wins 2 Losses
Second Round
That's What She Said Over Tune Squad
The Sandlot Over Scrub Nation
Legends Over Gym Class Heroes
Reverend Matt Over Honk...Satisfaction
Got 'Em Over Hanh!
Sun's Out, Guns Out Over Cereal Killers
Third Round
That's What She Said Over The Sandlot
Legends Never Die Over Reverend Matt
Sun's Out Guns Out Over Got 'Em
Fourth Round****Loser's Bracket Re-Entry Game
Reverend Matt Over The Sandlot
Fifth Round
That's What She Said Over Legends Never Die
Sun's Out Guns Out Over Reverend Matt
Championship-3 out of 5
...In Four Games...The 2009 Champion will be...
That's What She Said Over Sun's Out Guns Out
Hedquist Final Predictions Wins 20 Losses 5