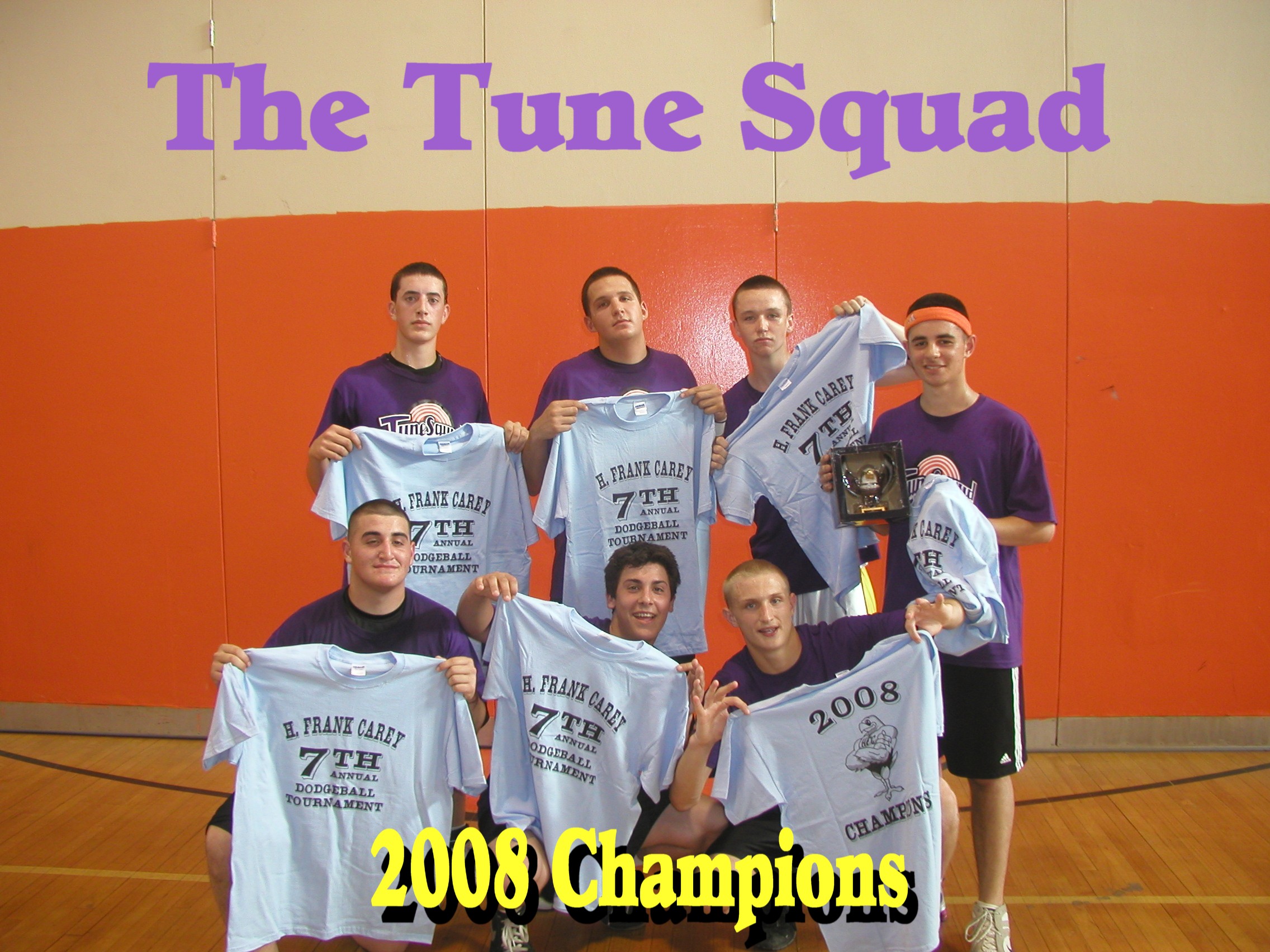 Dodgeball 2008 Awards
Boys Champion-The Tune Squad
Boys MVP- Joey Marino
Girls Champion- Diamond Devils
Girls MVP-Jess Doria & Dana Vella
Best Names-Marino's Italian Ices, Barry and the Balco Boys
Worst Names- 7 Guys and 1 Cup, Cosby Crew
Best Uniforms-High Velocity, Sunshine Squad, Mr. Clean and the Household Appliances, Lucky 7
Best Dressed- Andrew "The Gorilla" Viti
Worst Dressed- Pat "Crack Kills" Esposito
Best Individual Effort- Anthony "Green Shoes" Cirisano
Best Catches-Christian Ramos and Anything Thrown Towards Alphonse "Velcro Hands" Gentile
Best Ending to a Game- Luke "Bullseye" Zahradka
pasting Sally "The Nose" Intagliata to Win the Title
Best Prop- Brian Lima Landscaping's Rake with Grass
Fan Favorites-Super Mario All-Stars, Marathon Men, All That Remains, The Really, Extremely, Handsome Average Boys
Biggest Surprises-Marino's and P-Shooters Losing, Marathon Men Going to the Final Four
Best Music- Super Mario All-Stars Theme, Welcome Back To Jamrock
Thanks For Stopping By- Dodge These, American Idols, 7 Guys vs Jamrock
Teams To Watch in 2009-The Tune Squad (Can Anyone Say Repeat?), 7 Guys and 1 Cup, Coach Bombay and the Minnesota Miraclemen, Space Invaders Strike Back
Teams That SHOULD Watch in 2009 :) - The Really, Extremely Handsome Average Boys, American Idols, Stop, Drop and Roll
Day 2 Recap
After two hot and sticky days in the Carey Gymnasium the 2008 Dodgeball Champions were finally crowned. Alphonse "Velcro Hands" Gentile and his Tune Squad overcame a furious rally by Sal "Bopped in the Nose" Intagliata's Welcome Back To Jamrock to persevere three games to two in an exciting final that capped off another perfect tournament as the Carey Crazies once again proved that school spirit was alive and kicking.
The ride to the top on Day 2 saw The Tune Squad(I hate to hurt your feelings but it should be spelled TOON) battle through the Jamaican Hopscotch Mafia and Mr. Clean and The Household Appliances before they cooled off Marino's Italian Ices in the Semis that sent shockwaves through the crowd as the highly favored Marino's crew never found their opening day groove and were somewhat surprisingly sent packing.
In that game MVP Joey "Lucky Headband" Marino dropped the hammer on both his brother and his cousin as he prevailed as the only Marino that could get it done as he was constantly eluding balls while maintaining a good defense of the pin in each of the games. Well Done and Congrats to a real good guy!
Recognition must also go to the rest of The Tune Squad. Luke Zahradka's smooth throws were accurate all day long, Greg D'Arienzo kept his team pumped with his intensity, Terrence Murchie's sniper fire from the sidelines kept opponents off balance, Al Gentile caught everything thrown his way, Kyle Petersen's solid performance capped off his JV Football MVP week with a Dodgeball Championship and Antonio Gallina finalized his school year by becoming both a District Sports Night Champion as well as a Dodgeball Champion. Also kudos to Tommy "The Chest" Camoia for chipping in on day one.
In a sport where size and stength doesn't matter it was a pair of lightly regarded freshmen teams however who really stole the show. The Marathon Men's final four appearance and the All That Remains battle with the 'Ices' electrified the Gym the most. Guido Nation also surprised as they fought tough before falling to the Marinos as well.
Super Mario's Anthony "Green Feet" Cirisano's heroics was all the rage during his team's upset of Jamal and The Explorers. Mr. Clean's win over Lima Landscaping was a game that no one wanted to see a loser come from as both fan favorites brought smiling entertainment to the show.
As for the Girls Championship, Carey Softball was well represented as the Diamond Doubles easily swept B-Cubed 2-0 to capture their first ever Dodgeball Championship. There was no official MVP trophy handed out but if there were it would have been split in two as both Dana Vella and Jess Doria excelled for the D.D's.
There were plenty of other special stories of interest that made the 7th Annual a smashing success which, along with the great behavior, should make Dodgeball 2009 even better than 2008. Please see the 2008 Awards Photo to read more about these stories.
In closing, on behalf of myself, Mr. Farina, Mr. Frino, Mr. Soto and Mr. Giarraffa thanks to all of the teams who competed and helped contribute to the Carey Baseball Fund. Thanks to the entire Carey Student Body who behaved spectacularly again which makes these tournaments an easy sell to the administration when they know the students are all about doing the right thing and enjoying themselves.
Also a big thanks to Mr. Monaghan, Mr. McLees, Ms. Flynn and Mr. Kenny for allowing us to keep it going in '08. Thanks must also go to Terry Elias and Ryan Karl from Ms. Troha's audio group for providing the DJ'ing.
Last but not least I would like to thank anyone that I have forgotten as well as the entire Baseball Team and Staff for helping me make this event so special.....
Oh and by the way to those 1% of knuckleheads who believe that the baseball team is favored by the referees we respectfully ask that you choose the 2009 Checkers For Dummies Tournament next year as opposed to insulting our integrity :)
Day 1 Recap
The 7th Annual 2008 Dodgeball Tournament's first day had some thrilling moments, some mild upsets, some near misses, some great plays, but for the most part it went as expected as the top five ranked teams all advanced to the next round.
Of the five, only Welcome Back To Jamrock nearly lost their heads as Benji's Disciples pushed them to a game three which they led six players to three before Rob "Picasso" Bruno, last year's Dodge These ace, rallied the Rastas to push them into the Sweet 16.
One team that couldn't escape the upset bug was the 10-1 P-Shooters who grabbed one game but then fell to the well attired and well symphonied Super Mario All-Stars whose 400- 1 casting was obviously way off the mark.
Also falling by the wayside were last year's runners-up Dodge These who didn't sneak up on anyone as they were easily dismissed by 7 Guys and 1 Cup whose stinky brown shirts were simply too much to handle. Staying in the upset category, Coach Bombay and the Minnesota Miraclemen fell to Lima Landscaping after taking the first game. The L.L's were simply more sound and now have put themselves in a good position to make a run in their bracket. The last mild upset afflicted last year's fun to root for team Snack Attack, who besides having some great music, had a likeable team that was dispatched by the rookies from High Velocity who now take their 900-1 odds and move into Day 2.
Other big time odds to survive were the 1000-1 Guido Nation and the 900-1 All That Remains club that easily dispatched The Really Not So Good Average Boys.
As for the favored winners, Marino's Italian Ices pitched the first perfect game in Dodgeball Tourny history as they swept the overmatched American Idols without losing a single player in either game. The Tune Squad also put in a solid effort as did the Space Invaders Strike Back who routed Kaufman's Krew.
Besides Rob Bruno's heroics, other top individual performances came from Danny "Not That Danny Hernandez" Hernandez from Super Mario, Ricky "Fig Newton" Figueroa who filled in admirably as an alternate, Peter "Pine Tar" Falcon was strong for the Invaders, Anthony "Rainbow" Marino was an intimidating flame thrower for the Ices and John "In a Hurry" Murray kept the Jamaican Hopscothers afloat long enough to overcome the Fahrbacho Knights.
Besides that group it was a good day for brother combinations as the Wallicks, Doug and Greg, the Ferraras, Nick and Tom, and the Monetas Anthony and Nick, all had productive outings.
With the field shortened to 16, Day 2's intensity should pick up quite a bit as the Boys Champions and the Girls Champions will both be crowned. Stay Tuned!!!!
Predictions Day 1 11-5
Introduction
This year's Tournament will be held over a 2-day period once again. Day 1--June 11th is a Wednesday and it will hold the First Round for all of the games as well as the Semi-Finals for the Girls if enough teams enter. Day 2--June 12th, a Thursday will complete the entire Tournament as well as hold the Girls Final just prior to the Boys Final. Both days games should last from about 3:30PM to 6:00PM.
As always the Games will be played for several important reasons:
1. Play because it is fun and your classmates get to watch you.
2. You will have an opportunity to retain bragging rights for at least one year as the Dodgeball Champs.
3. If you win, you get to strut your stuff in Championship T-Shirts. Shirts go to both Boys and Girls Tournaments.
4. The Boys Winning Team will enjoy themselves when they receive their $150 gift certificate to Boulder Creek. Hey pass the Wings!!!
5. The MVP of the entire Tournament will recieve a Trophy declaring him or herself King or Queen of Carey Dodgeball.
Rules:
All Physical Education Class Rules will be used in the tournament. They will be reviewed prior to the first game.
Games:
All games will be between 7 players in a 2 out of 3 format. You will change sides after each game. 3 out of 5 in the Championship round. Safety and Sportsmanship are the most important issues. No headhunting, no negative trashtalking, if you are eliminated you must sit down on the team bench if you interfere with a live ball your team will LOSE that game immediately, also if you curse, argue calls or act inappropriate in any way then you, and possibly your team, will be disqualified immediately. This issue is non-negotiable and it will determined by ME, Mr. Hedquist! Thanks for understanding.
Sidenote:
This Tournament is a privilege not a right! Mr. Monaghan and Mr. McLees have given us permission to host it under the pretense that the outstanding Carey Student Body conduct themselves in a manner that will make all of us proud again for another year. All it takes is a few people to ruin a good thing. So please don't let that happen. Spectators must sit throughout the games. When you leave do not roam the halls or go to your lockers. Exit in the back of the gym. Any participant who needs to get dressed must do so at 3:00PM. The lockerrooms will be Closed once the Tournament begins--No exceptions. Please dispose of you trash, and last but not least pay attention when you are a spectator---Inevitably YOU get hit worse than the players because YOU were not watching the game!! So be careful!!
Odds to Win:
Once again I will foolishly attempt to forecast a Winner for Dodgeball 2008. Now before I do this I will repeat what I have said for the last six years...I DO NOT CARE WHO WINS-I AM NOT FROM LAS VEGAS AND I AM NOT NOSTRADAMUS. I make predictions based on my knowledge of a student's athletic abilities as I observe them in Gym Class. So if you think I really care or can control who Wins then do me a favor let me know when the next $300 Mega-Millions drawing is. :)
Anyway Here we go:
Odds To Win
| | |
| --- | --- |
| Teams | Odds To Win |
| Marino's Italian Ices | 2-1. |
| Welcome Back to Jamrock | 3-1. |
| 7 Guys 1 Cup | 6-1. |
| Jamaican Hopscotch Mafia | 7-1. |
| The Tune Squad | 9-1. |
| P-Shooters | 10-1. |
| Space Invaders Strike Back | 12-1. |
| Coach Bombay and the Minnesota Miraclemen | 12-1. |
| Marathon Men | 35-1 |
| Barry and the Balco Boys | 45-1 |
| Snack Attack | 45-1 |
| The American Idols | 50-1 |
| Jamal and the Explorers | 55-1 |
| Cosby's Crew | 60-1 |
| Benji's Disciples | 75-1 |
| Lima's Landscaping | 80-1 |
| Mr. Clean and the Household Appliances | 90-1 |
| The Obamas | 90-1 |
| Dodge These | 100-1 |
| Fahrbach and the Fahrbacho Knights | 250-1 |
| Kings XL | 250-1 |
| Super Mario All-Stars | 400-1 |
| Machal's All-Stars | 600-1 |
| Lucky 7 | 700-1 |
| The Really, Extremely Handsome Average Boys | 700-1 |
| Cheese in Yo Face-A | 800-1 |
| High Velocity | 900-1 |
| All That Remains | 900-1 |
| Kaufman's Krew | 1000-1 |
| Guido Nation | 1000-1 |
| Stop, Drop and Roll | 1.2 Million-1 |
| The Sunshine Squad | 1.9 Million -1 |
Mr. Hedquist

Dodgeball 2008

Predictions

RED =Wrong Prediction

First Round

Jamal and the Explorers Over Stop, Drop and Roll

P-Shooters Over Super Mario and the All-Stars

Barry and the Balco Boys Over Cheese in Yo Face-A

Marathon Men Over Lucky 7

7 Guys and 1 Cup Over Dodge These

Snack Attack Over High Velocity

Welcome Back to Jamrock Over Benji's Disciples

Space Invaders Strike Back Over Kaufman's Krew

The Tune Squad Over Cosby's Crew

Jamaican Hopscotch Mafia Over Fahrbach and the Fahrbacho Knights

Coach Bombay and the Minnesota Miraclemen Over Lima's Landscaping

Kings XL Over Mr. Clean and the Household Appliances

Guido Nation Over The Sunshine Squad

The Obamas Over Machal's All-Stars

Marino's Italian Ices Over The American Idols

The Really, Extremely Handsome Average Boys Over All That Remains

Second Round-Sweet 16

P-Shooters Over Jamal and the Explorers

Barry and the Balco Boys Over Marathon Men

7 Guys and 1 Cup Over Snack Attack

Welcome Back to Jamrock Over Space Invaders Strike Back

Jamaican Hopscotch Mafia Over The Tune Squad

Coach Bombay and the Minnesota Miraclemen Over Kings XL

The Obamas Over Guido Nation

Marino's Italian Ices Over The Really, Extremely Handsome Average Guys

Third Round-Elite 8

P-Shooters Over Barry and the Balco Boys

Welcome Back to Jamrock Over 7 Guys and 1 Cup

Jamaican Hopscotch Mafia Over Coach Bombay and the Minn. Miraclemen

Marino's Italian Ices Over The Obamas

Fourth Round-Final Four

Welcome Back to Jamrock Over P-Shooters

Marino's Italian Ices Over Jamaican Hopscotch Mafia

Championship Round

Marino's Italian Ices Over Welcome Back to Jamrock in 5 Games
Dodgeball 2008 Tournament Bracket

FRANKLIN SQUARE CONFERENCE

MONAGHAN BRACKET

Round 1

Round 2

Round 3

Round 4

Jamal and The Explorers

Jamal and the Explorers

Stop, Drop and Roll

Super Mario All-Stars

P-Shooters

Super Mario All-Stars

Super Mario All-Stars

Marathon Men

Barry and the Balco Boys

Barry and the Balco Boys

Cheese in Yo Face-A

Marathon Men

Lucky 7

Marathon Men

Marathon Men

MCLEES BRACKET

Welcome Back To Jamrock

Dodge These

7 Guys 1 Cup

7 Guys 1 Cup

7 Guys 1 Cup

High Velocity

High Velocity

Snack Attack

Welcome Back To Jamrock

Benji's Disciples

Welcome Back To Jamrock

Welcome Back To Jamrock

Welcome back To Jamrock

Space Invaders Strike Back

Space Invaders Str. Back

Kaufman's Krew
GARDEN CITY SOUTH CONFERENCE
| | | | | | | |
| --- | --- | --- | --- | --- | --- | --- |
| FLYNN BRACKET | Round 1 | Round 2 | Round 3 | | | Round 4 |
| The Tune Squad | | | | | | |
| | The Tune Squad | | | | | |
| Cosby's Crew | | | | | | |
| | | The Tune Squad | | | | |
| Jamaican Hopscotch Mafia | | | | | | |
| | Jamaican Hopscotch Mafia | | | | | |
| Fahrbacho Knights | | | The Tune Squad | | | |
| | | | | | | |
| Coach Bombay and the Minnesota Mir.Men | | | | | | |
| | Lima Landscaping | | | | | |
| Lima's Landscaping | | | | | | |
| | | Mr. Clean and the Household Appliances | | | | |
| Kings XL | | | | | | |
| | Mr. Clean and the H.Appl. | | | | | |
| Mr. Clean and the Household Appliances | | | | | | |
| WRIGHT BRACKET | | | | | The Tune Squad | =Champions 3-2 |
| Guido Nation | | | | | | |
| | Guido Nation | | | | | |
| The Sunshine Squad | | | | | | |
| | | Guido Nation | | | | |
| Machal's All-Stars | | | | | | |
| | The Obamas | | | | | |
| The Obamas | | | | | | |
| | | | Marino's Italian Ices | | | |
| The American Idols | | | | | | |
| | Marino's Italian Ices | | | | | |
| Marino's Italian Ices | | | | | | |
| | | Marino's Italian Ices | | | | |
| All That Remains | | | | | | |
| | All That Remains | | | | | |
| The Really, Extremely Handsome Average Boys | | | | | | |
***MONAGHAN WINNER PLAYS MCLEES WINNER IN FRANKLIN SQUARE FINAL.

***FLYNN WINNER PLAYS WRIGHT WINNER IN GARDEN CITY SOUTH FINAL

***WINNERS OF THOSE MEET FOR 2008 CHAMPIONSHIP
Dodgeball 2008 Rosters

Jamal and the Explorers
Steven Matthew
Russel Linder
Vinny Scardino
Dany Villegas
Glen Affrunti
Oscar Rodriguez
Ryan Surlis-Alt.-Kevin McKeown
Stop, Drop and Roll
John Paul Cordon
Thomas Lannon
David Nieves
Chris Nieves
Vlad Cojocaru
Paul Sassos
Kevin McCarthy
P-Shooters

1. John Chodak

2. Joe Petito

3. Nick Farrara

4. Tommy DeVito

5. Nick Martelli

6. Steve Jacobs

7. Tyler Cuoco

Super Mario All-Stars
Anthony Cirisano
Alex Bizelia
Chucky Schappi
Michael Riveros
Kevin Lee
Danny Hernandez
Anthony Petey Asaro
Manager-Andrew Viti

Barry and the Balco Boys
John Augello
Mike Zito
Chris Martelli
Tom Rydewski
Paul Collazo
Doug Wallick
Greg Wallick
Cheese in Yo Face-A
Matt Buchalski
Charlie Mule
John McGowan
Vinny Cuila
Luke Maccarone
Mike Benjamin
Andrew Manzo
Lucky 7
Joe Babayer
Louie Cona
Andrew Dileonardo
Angelo Dipasquale
Joe Galgano
Adam Delgado
Chris Theodorou
Marathon Men
Anthony Licata
Giuliano Bove
James Pangallo
Pat Amato
Anthony Zeppieri
Joe Cali
Kyle Demeo
Dodge These
Brian Fusco
Collin Chellamkottu
Nick Canatella
C.J. Fuschetto
Austin Hudson
Anthony Lapelosa
Dan Roberts
7 Guys, 1 Cup

1. Phil Leidner

2. Tommy Torregrossa

3. Kevin Scott

4. Sal Cerami

5. Brian McGrath

6. Craig Brosnan

7. Joe Gregorio

High Velocity
Tommy Ferrara
Nick Ferrara
Mike Babich
Sal Manzo
Ryan Soebke
Savan Parker
Jeremy Parsero
Snack Attack
Gasper Giarratano
Tyler Mignone
Anthony Raniolo
Dan Gugel
Dan Connor
Andrew Ross
Dom Russo
Benji's Disciples
Matt Maidhof
Anthony Romanello
Joe Fasano
Chris Hill
Kevin Barry
Colin Stropkay
Conor Ferguson
Welcome Back to Jamrock
Sal Intagliata
Marc Pesa
Chris Spillane
Joe Carr
Mike Dudine
Paul Van Wie
Rob Bruno
Space Invaders Strike Back
Peter Falcon
Adrian Pagano
Chris Humrich
Pat Esposito
John Medina
Joe Alvino
John Molloy
Kaufman's Krew
Nick Romanello
Craig Samson
Jon Andrade
Tom Walker
Anthony Corpion
Marc Berardi
Jon Fineo
The Tune Squad
Alphonse Gentile
Joey Marino
Kyle Petersen
Terrance Murchie
Luke Zahradka
Greg D'Arienzo
Antonio Gallina
Cosby's Crew
Anis Khan
Hassan Khan
Augustine Giardullo
Joe Galatioto
Adam Fox
Matt Rios
Anthony Mazzucco
Jamaican Hopscotch Mafia
Chris Cavaliere
Brian Mahoney
Brian Hardman
Robert Braun
Justin Pons
Joe Jacaruso
John Murray
Fahrbach and the Fahrbacho Knights
Mike Fahrbach
Nick Loud
James McFadden
Sean Corcoran
Brendan Luna
Omair Kahnzada
Chris D'Agostino Alt- Bob Levandoski
Coach Bombay and the Minnesota Miraclemen
Rob Brusca
Evan Delgado
Mike Keen
Brian Combs
Steve Mallick
Christian Ramos
Mike Amatulli
Lima's Landscaping
Brian Lima
Anthony Moneta
Nick Moneta
James Valenza
Rich Schwartz
Damien Fiorello
Evan Jacaruso
Kings XL

1.Karmvir Singh

2.Harpreet Singh

3.Aditya Sharma

4.Gursharan Somra

5.Galil Thomas

6.Ali Shivji

7.Awais Khan

Mr. Clean and the Household Appliances
Chris Lean
Connor Nagy
Matt Svoboda
Matt Oswald
Danny McElhinney
Timmy Maricec
Peter Rosini
Guido Nation
Frankie DiFiore
Joe San Filippo
Matteo DiFiore
Blake Boerchel
Sal Carillo
Anthony Andreani
David Andreani
The Sunshine Squad
Sean Curran
Kevin Conlon
Greg Giaconelli
Mike Leucken
Biker Helmkamp
Charles Saroniero
Dan Cusack
Machal's All-Stars
Pat Castel
Stephen Constant
Mike Tripodi
Joe Rando
Justin Wisniewski
Scott Bradshaw
Nick Spinella
The Obamas
Murtaza Dawoodbhai
Lazaro Sepulveda
Anthony Logozzo
Danny Mrakovic
Iv Malka
Jeff Kim
Mohamed Gaccha
The American Idols
Natale Franco
Steve Stantyos
Joe Barbarito
Chris Bitonti
Jason Alvino
James San Fillipo
Chris Siegenthaler
Marino's Italian Ices
Anthony Marino
Gianni Masci
Chris Vella
Dan Babich
Jamie Spanopoulos
John Saloman
Mike Marino
All That Remains
Jack Young
William Cartwright
Robbie Miotto
Nick Vilchez
Tom Scott
Jake Robison
Kyle Zahradka
The Really, Extremely Handsome Average Boys
Kevin Ilardi
Joe Ghiuro
Mike Dejose
Vinny DiMartino
Nick Lamb
John Kiefer
Mike Record